Quality Dental Implants in Greenwich, South London
If you're looking for affordable 'dental implants near me' in Greenwich, South London, our highly rated specialists can help replace missing teeth to restore the health and vibrancy of your smile.
Benefit from the impressive skills and 57+ years combined dentistry experience of our implant team which includes:
Principal dentist Dr. Harneet Mangat (GDC No: 69327): Over 27 years extensive dentistry experience and is a chairman on the General Dental Council's (GDC) fitness to practice panel


Specialist Periodontist Dr. Nick Vyas (GDC No: 66111): Over 30 years extensive dentistry experience and has limited his clinical practice to Periodontology, Implantology, Oral Medicine and Dento-alveolar Surgery
Specialist dental implant referrals in London
As well as treating private dental implant patients, we also accept specialist dental implant referrals for patients from fellow dentist across London.
Please see our dedicated dental referrals page to start the referral process.
Why choose Greenwich Referrals for dental implants?
✔️ Over 110 5* Google reviews
✔️ Highly experienced team of specialists
✔️ Welcoming and modern clinic
✔️ Very competitive prices and payment plans
✔️ Accepting new patients

Teeth implant costs
Would you like to replace missing teeth with natural looking dental implants in South East London at a great price?
To ensure this treatment is as affordable as possible, we've ensured our implant prices are extremely competitive compared to other specialist dentists in Greenwich.
The cost of a single tooth implant compares favourably with conventional bridges while more complex cases can cost considerably more.
Your treatment plan will also include a very accurate estimate of all expected fees which usually start from £2,900.
What is a dental implant?
Dental implants are the most advanced way to replace a missing tooth or teeth. It is a replacement root made usually of titanium. The titanium screw is implanted into the jaw in areas where a tooth or teeth have been lost.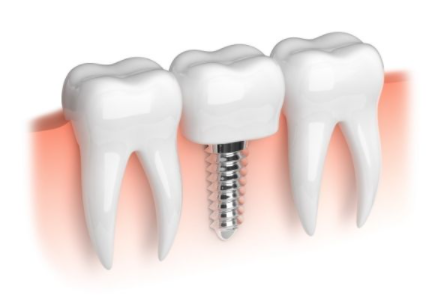 This then acts as a root and a replacement tooth can then be fixed to it in a similar way as a crown. Implants are currently the closest you can get to natural teeth.
Although it is impossible to beat or replicate a healthy natural tooth, it is often reported by patients that implants look, feel and function like natural teeth.
What does the treatment involve?
Most implants are placed under local anaesthesia similar to that used for fillings or extractions. They are inserted into the jawbone after incisions are made in the gums.
After a period of time the bone into which the implant is placed will attach to the surface of the implant. A small metal pin is then fitted onto the implant upon which a final restoration in the form of a crown or bridge or over-denture is fixed.
The time required to complete treatment also differs from patient to patient and their individual treatment plan.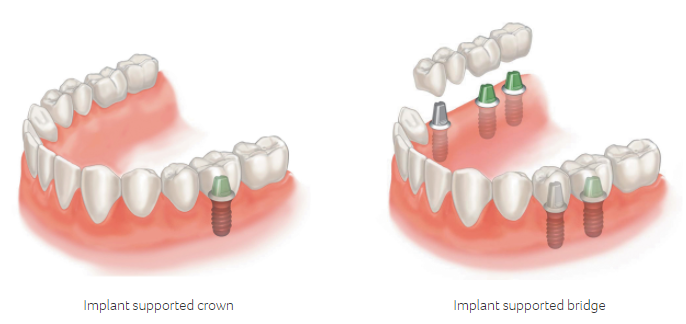 Who qualifies for a dental implant? Am I a suitable candidate?
There is hardly anybody who is not suitable for implant treatment. With the exception of rare intravenous medical treatment all other medical conditions, managed during implant treatment, can lead to a successful outcome.
It goes without saying that your dentition must be healthy and free of gum disease. Even patients with severe loss of bone in their jaws or several missing teeth or even no teeth left at all will qualify for implant treatment.
However this might require a more complex treatment plan like growing or transplanting new bone.
Single tooth implant - before and after example

What should I expect after treatment?
When treatment is completed you can expect to use implant supported teeth in a very similar way to natural teeth. Your implants will need ongoing daily cleaning and maintenance just like normal teeth. However, failing to clean around the implants on a daily basis will result in probable failure.
Regular inspections by the dentist will also form part of the ongoing maintenance programme.
Are dental implants painful?
Most patients are pleasantly surprised as to how little pain is experienced after implant placement. Often none or just a couple of pain control tablets are needed on the day after the procedure.
Some swelling as well as bruising for a few days after surgery can also be expected.
How safe are implants?
Implants are completely safe and you will be made aware of any anatomical structures that are at risk of damage in your particular case. Any anatomical structure at risk of damage, and every measure we take to avoid this damage will be outlined in your treatment plan.
In spite of this, there may still remain a very small statistical risk which will be discussed with you before you go ahead with the treatment. It can be accepted that a well-integrated implant that is well maintained in a healthy mouth can last many years if not a lifetime.
A small percentage of implants fail - mostly due to smoking, excessive alcohol consumption and poor plaque control.
What are the benefits of implants?
The benefits of implant treatment include reliability, comfort and conservation of the adjacent teeth.
More importantly, bone support and prevention of further bone loss as well as confidence in a secure dentition and improvement in overall health as oral health improves.
Google review for our dental implant treatment
I recently had an implant done at this practice, by Dr Vam. Treatment quality is excellent, and the whole team including dental nurses and reception staff were very professional and helpful throughout the process.

I have a gag reflex issue and Dr Vam and team were very accommodating and handled it extremely well, including arranging a sedation specialist to come into the practice on two occasions.

The implant fits perfectly and I am very happy with the result. Recommended.
Michael Taylor