Endodontist in London, Greenwich
If you're looking for a highly rated and experienced endodontist near you in London, our expert Greenwich root canal treatment team can help.
Our endodontist who performs root canal treatments, Rory MacSweeney (GDC No: 76283), has over 21 years extensive dentistry experience.
He developed a special interest in endodontics well over 10 years ago and has helped improve the teeth for hundreds of patients from Greenwich and throughout London.
✓ Quick ✓ Painless ✓ Great prices ✓ Nervous patient experts
Specialist endodontic referrals in London
As well as accepting private root canal treatment patients we also accept specialist endodontic referrals from other London dentists. Please see our dedicated referrals page to start the referral process.
Root canal cost in London
Root canal treatment does not need to be expensive in London. To help keep this treatment as affordable as possible, we ensure our prices are some of the best around Greenwich and South London:
Endodontic consultation fee

£75.00

Incisors

£550.00

Pre-molars

£595.00

Molars

£695.00

Re-root treatments

Additional £100.00
When is root canal treament required?
Our teeth are meant to last a lifetime. Sometimes, however, damage occurs to a tooth (often from a deep cavity or an injury that causes a tooth to crack) and the inside of the tooth becomes infected.
This infection damages the pulp of the tooth – the network of blood vessels and nerves inside.
Left untreated, the damaged pulp can cause infection that will damage the bone around the tooth and cause swelling and pain.
If the damaged tooth becomes infected, your dentist, or a dental specialist called an endodontist, may have to perform an endodontic treatment (often called Root Canal Therapy) to save it.
The root canal treatment process
Endodontic treatment involves opening the tooth, removing the damaged pulp, cleaning, shaping, filling and sealing the tooth.
Depending upon how much infection there is in the injured tooth, your may be put on medicine before your dentist or endodontist can begin to work.
An endodontist has specialised in root canal therapy and patients are often referred for a complex RCT, Re RCT or to save a previously failed RCT.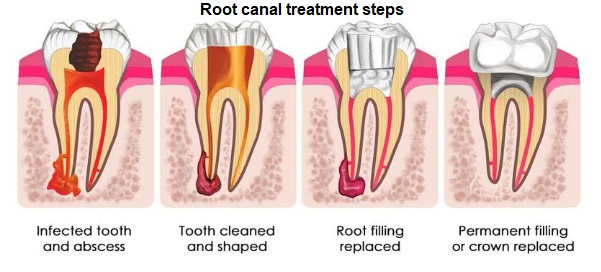 Looking for the best London endodontist reviews?
See our latest 5* root canal reviews via Google
Dr Rory was amazing for my dental treatment I had recently. He is super calming and answered all my questions I had. He's very respectful and also brings an aura of positivity to the room, and he is a genuinely nice guy. Thank you Rory once again, and I will be back in the future for any more treatment I need.

The receptionist was also very helpful, and made me a drinks/ gave me some snacks whilst I waited, as I was feeling a bit nauseous!

I will be coming here again without doubt if ever needed!.
Ryan - Dec 2021
Dr.Rory is the BEST! Not even exaggerating it. I had a root canal performed and it was super painless. Very knowledgable about what he's doing and I'd definitely got back to him for any future dental issues/advice. Reassured me to the point I even dozed off a little bit while having the procedure done. 👌🏾🙌🏾👏🏾
Evelyn Ragui - Nov 2021
I had a root canal and it was a breeze. Not many people can say that! Excellent work. The dentist, Rory MacSweeney is a genius.

The treatment was painless, quick and with very little adverse after effects. It was also cheaper than I expected as the revolutionary approach meant drilling through the existing crown, necessitating only a minor filling to conclude the treatment, rather than a new crown and, therefore, a much longer and more expensive outcome.

Thank you from a very satisfied customer. I'd also add that the whole Greenwich practice is brilliant from reception to the chair! Well done and thanks again.
John Whitaker - Sept 2021
I have always been very nervous about having dental treatments. Dr Rory has been fantastic, I felt at ease straight away.

I had a root canal treatment and it was quick and painless. Dr Rory is down to heart and very knowledgeable, the best dental treatment experience I ever had.

And Fernanda, the receptionist, is a superstar.
Claudia Macchini - Aug 2021