Endodontist in London, Greenwich
If you're looking for a highly experienced endodontist near you in London, our friendly and highly rated Greenwich root canal treatment team can help.
Our endodontist who performs root canal treatments, Rory MacSweeney (GDC No: 76283), has over 21 years extensive dentistry experience. He developed a special interest in endodontics well over 10 years ago.
As well as accepting private root canal treatment patients we also accept specialist endodontic referrals for patients from across London.
Please see our dedicated referrals page to start the referral process.
When is root canal treament required?
Our teeth are meant to last a lifetime. Sometimes, however, damage occurs to a tooth (often from a deep cavity or an injury that causes a tooth to crack) and the inside of the tooth becomes infected.
This infection damages the pulp of the tooth – the network of blood vessels and nerves inside.
Left untreated, the damaged pulp can cause infection that will damage the bone around the tooth and cause swelling and pain.
If the damaged tooth becomes infected, your dentist, or a dental specialist called an endodontist, may have to perform an endodontic treatment (often called Root Canal Therapy) to save it.
The root canal treatment process
Endodontic treatment involves opening the tooth, removing the damaged pulp, cleaning, shaping, filling and sealing the tooth.
Depending upon how much infection there is in the injured tooth, your may be put on medicine before your dentist or endodontist can begin to work.
An endodontist has specialised in root canal therapy and patients are often referred for a complex RCT, Re RCT or to save a previously failed RCT.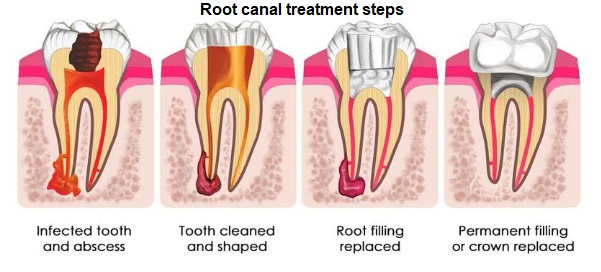 Endodontic price list
To help keep this treatment as affordable as possible, we ensure our root canal prices are extremely competitive compared to endodontists in and around Greenwich:
Endodontic consultation fee

£75.00

Incisors

£550.00

Pre-molars

£595.00

Molars

£695.00

Re-root treatments

Additional £100.00
Looking for London endodontist reviews?
See our latest 5* Google my Business root canal reviews
I had a root canal and it was a breeze. Not many people can say that! Excellent work. The dentist, Rory MacSweeney is a genius.

The treatment was painless, quick and with very little adverse after effects. It was also cheaper than I expected as the revolutionary approach meant drilling through the existing crown, necessitating only a minor filling to conclude the treatment, rather than a new crown and, therefore, a much longer and more expensive outcome.

Thank you from a very satisfied customer. I'd also add that the whole Greenwich practice is brilliant from reception to the chair! Well done and thanks again.
John Whitaker - Sept 2021
I have always been very nervous about having dental treatments. Dr Rory has been fantastic, I felt at ease straight away.

I had a root canal treatment and it was quick and painless. Dr Rory is down to heart and very knowledgeable, the best dental treatment experience I ever had.

And Fernanda, the receptionist, is a superstar.
Claudia Macchini - Aug 2021
Visited today for a consultation on doing a possible re-root canal treatment.Dr Rory carried out a through consultation with me, told me everything I needed to know and listened to my questions/concerns whilst being very sensitive to my serious anxieties about having any kind of dental treatment- never mind something this complex.

I really wish I went to an expert in the first place rather than having the first root canal done at my usual dentist. Fernanda the reception was also very pleasant and helpful.

Would highly recommend for nervous patients.
Val Graham - June 2021
This practice is by far the best that I've attended. I had a few urgent issues that needed fixing, ones created by other practices around the same area... Ana Luisa De Souza has been great, showing genuine care and will do anything to fit you in and relieve of any discomfort.

I also needed a root canal. I had a consultation with Rory MacSweeney on the Friday and having listened to my discomfort, completely re-arranged his Saturday to ensure the full root canal was done, less than 24 hours after the consultation (and his last working day before the Christmas break).

These guys really know what they are doing and I'm sure I will not be attending anywhere else from now on!
Ahmet - Dec 2020